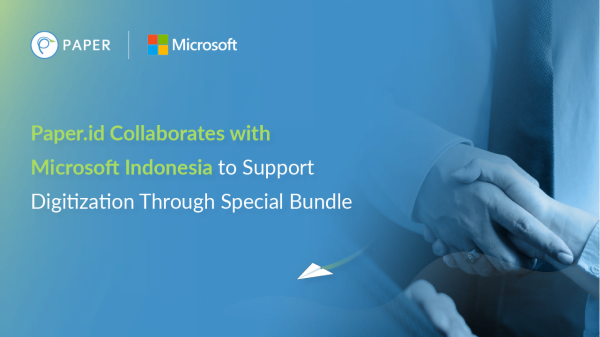 Paper.id announced collaboration with Microsoft Indonesia through a special business package, 'Microsoft Office 365 Business Basic". The collaboration defines a strong partnership between two companies to increase business productivity and adaptability in the midst of the current hybrid working environment. The package is available through PT. Sistech Kharisma as an official distributor and Paper.id as the official reseller partner.
CEO & Co-founder of Paper.id, Jeremy Limman said that COVID-19 pandemic limits the collaboration and communication between employees which hinders business operational processes. Thus, the package is expected to help companies to increase their competitiveness and accelerate the growth of Indonesia' digital economy by transforming business operations and collaboration digitally.
Read more: Subway, the story of the biggest food franchise in the world
Starting from IDR 54,000 per month, the packages are available in three types that have been adjusted so they are easily accessible by SMEs. For every purchase of each package, Paper.id provides an additional bonus of free subscriptions of a Jet or Rocket package to help people manage stock digitally, collect payment through various digital payment channels, and process all invoices automatically. In addition, every existing feature has been integrated and can be accessed online to seamlessly facilitate business activities.
Microsoft Office 365 also makes working collaboration with internal/external parties easier starting from sharing to real-time editing of documents. In addition, chatting and presentation can be conducted easily in Microsoft Teams. Last but not least, Microsoft OneDrive acts as a comprehensive file sharing and backup tool with 1 terabyte of capacity.
Paper.id and Microsoft manage data security based on ISO27001, an international standard for information security. Automatic data encryption & backup system that will help ensure data security and overcome risk data loss that may arise from issues such as server downtime.
Read more: A story of Kopi Kenangan, how a small coffee venture becomes one of the biggest giant
"Currently, we are entering a hybrid working environment, where the strength of working collaboration with colleagues in various places is very important. This is no exception for MSMEs whose growth rates and contribution to Indonesia are significant. Microsoft Office 365 Business Basic, with its various features and security systems, is able to be the right solution for MSMEs for these needs. In accordance with the Berdayakan Indonesia initiative, we hope that the package issued with Paper.id can help reach more MSMEs, accelerate digital transformation, and increase Indonesia's economic growth, "said Wahjudi Purnama, Modern Work Business Group Lead, Microsoft Indonesia.
To further empower SMEs, Paper.id has established strategic partnerships with various financial institutions such as Modalku, Investree, Koinworks, and Alami with a total working capital financing disbursement reaching IDR 100 billion as of March 2021. Paper.id has also partnered with Xendit, Tokopedia, and Gojek (GoTagihan) to facilitate e-invoicing payments through various payment options, as well as Gadjian for better operational management, attendance and employee performance monitoring packages. "We continue our commitment to be the leading platform for SME business management, from solving cash flow problems through accounts receivable / debt management, to accessing business funding to ensure faster payments," added Jeremy Limman.
(Visited 104 times, 1 visits today)