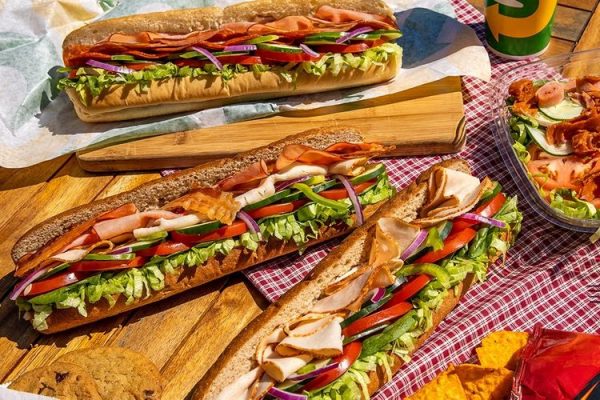 Subway Restaurant is the most well-known food franchise  in the world. For those of you love sandwich or avid-Korean drama fans, you may be familiar with Subway, a food franchise restaurant that sells sandwiches as its main menu. It also appears at several Korean dramas which increase its popularity among many people.
Founded in 1965, the subway fast food restaurant was founded by a 17 year old named Fred DeLuca. According to The Daily Meal, DeLuca needed money to go to college. He also met his parents' friend named Dr. Peter Buck who suggested opening a sandwich shop. In the past, the name of this restaurant was Pete's Super Submarines. On opening day, Buck and DeLuca managed to sell 312 sandwiches for less than $ 1 / serving. Three years later, in 1968, Buck and DeLuca did a rebranding and named their restaurant Subway. The decision was in line with the introduction of Subway's new logo, which is synonymous with bright yellow. It is also known that in 1974, Subway managed to open 16 outlets in the Connecticut area, USA.
Read more: A story of franchise Kopi Kenangan, how a small coffee venture turned into a giant company
How Subway turns as the biggest food franchise restaurant in the world
One of the things that became the keys to their success in the 1980s and 1990s, among others, was the maturity of their business concept which became an important part of a company's image. That led to this restaurant starting the bakery process at their restaurant in 1983. Subway began entering the international market in 1984, with Bahrain as the first destination. Their market also expanded from Hong Kong, Northern Ireland, Italy, Pakistan, to Norway in 1998.
In introducing their restaurant, the subway has opened restaurants in places such as convenience stores, fuel filling stations, and rest areas with the aim of being able to expand rapidly. It can be said that the 1990's was Subway's heyday when the number of their outlets increased very rapidly from about 5,000 to around 13,200 in 1998, and made them just below McDonald's. And the success they achieved in 2002 was proven by Subway which managed to overtake McDonald's as the largest restaurant chain in the United States with 13,247 stores.
The fall of Subway and its causes
Unfortunately, however, the company's journey is not always smooth. Subway suffered a setback in 2014 as sales continued to decline. The following years were also not a year of hope for Subway to be successful again, marked by the reported information that the subway had closed its 1,000 outlets worldwide. To stay afloat, Franchise is the key to a successful subway choice in survival. They offer a fairly cheap price for a franchise. The fare to open a Subway franchise is around US $ 116,000-263,000. This price is much cheaper if we compare it to opening a McDonald's which franchises for 1-2.2 million US dollars.
From the subway restaurant, we can see that the franchise business has a number of advantages that can be felt in maintaining a business and developing or expanding a business. For those of you who want to start a business, of course, starting a business has risks, even franchising has risks, but one of the benefits of opening a franchise compared to an individual business is the chance of success and the benefits you will get are higher.
(Visited 307 times, 1 visits today)