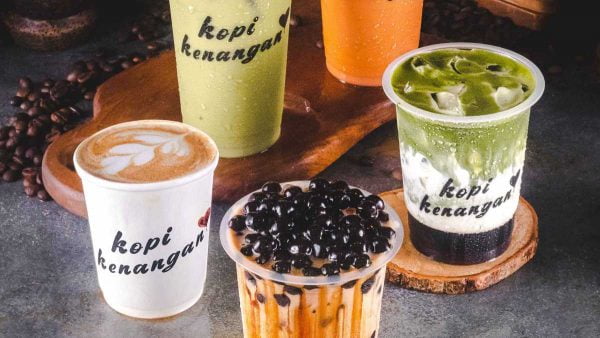 The latest trend for young entrepreneurs in Indonesia's growing diverse economy is franchising and one of them is franchise Kopi Kenangan. One of the biggest enthusiasts of these young entrepreneurs is the anticipation of franchising Kopi Kenangan. Edward Tirtanata, CEO of Kopi Kenangan is empowered by his vision to bridge the gap between affordable coffee and high end brands like Starbucks. Kopi Kenangan aims to become Indonesia's biggest affordable coffee chain. Even though the brand has successfully raised $109 million in their latest series B funding with Sequoia Capital India, their journey started off far from simple.
The first ever franchise Kopi Kenangan stand
As a graduate of Northeastern University, Edward Tirtanata was fortunate enough to open his first F&B, Lewis & Carroll Tea in South Jakarta. His inspiration came from his mother's experience when she visited a tea house in Boston, Massachusetts. Customers are given the ultimate experience of smelling the aroma of tea's that are mixed for them personally. Edward saw a problem in Indonesia's affordable coffee quality.
Read more: Best food proposal ideas that won't go wrong
With his Partner James Pranoto, they opened the first ever Kopi Kenangan in the Standard Chartered tower, Kuningan. Knowing 3 other competitions have larger consumer base and higher brand awareness, Edward utilized the grab & go system and online ojek application. On his first opening day, he sold over 700 glasses of coffee. Almost 60-70% of his sales came from online ojek applications. In the span of 3 months, Edward managed to obtain back his initial capital investment on the coffee venture. He opened 2 more stores after that, in which he obtained his initial investment after 4 months.
Biggest funding on any coffee venture in Indonesia, ever!
As Sequoia's next coffee unicorn, Kopi Kenangan started off their business with a seed funding of $8 million dollars from Alpha JWC Ventures— just one year after their first store opening in Kuningan. One year after their seed funding, Kopi Kenangan obtained their Series A from Sequoia Capital for $20 million in June 2019. This startup coffee unicorn surprisingly amazed the President of Arrive, a company formally backed by a famous rapper Jay Z's Roc nation and Serena Ventures owned by a reputable tennis athlete—Serena Williams. NBA star Caris Levert and CEO of Sweet-green Jonathan Neman took part in this series A funding as well. Just one year after their series A, Kopi Kenangan was fueled with another round of funding and obtained Series B from yet again, Sequoia Capital for $109 million.
Growing vision
Edward Tirtanata's vision was able to push Kopi Kenangan's rapid growth in the span of 3 years from their first opening, seed funding, Series A and now Series B. In 2021, they plan to open 800 stores and have started their roadmap for an IPO in 2023. Target for the IPO as well as portion of shares given to public investors have not been disclosed. In hope of this, a growing number of young millennials have been eyeing to franchise Kopi Kenangan in the future. Who knows, maybe Edward Tirtanarta will be lenient on this idea when Kopi Kenangan reaches their IPO.
Read more: The example of bill and its explanation
Most of us may not relate to the story of Edward Tirtanata. Graduating from a reputable university, he had previously opened a well known F&B venture Lewis and Carroll Tea, had his own capital when opening franchise kopi kenangan in a strategic tower in kuningan and sold over 700 glasses on the first day.
However, his ambition and innovative idea is what young generations need in a world where almost every type of F&B business has been made. His unique branding was able to capture the confidence of big investors to fund him. If you are a young risk taker and want to open a franchise kopi kenangan or your own business, do not be afraid of not owning capital or not knowing how to effectively manage your business processes. At paper id, we offer a one stop solution platform for managing your business from invoicing, payment, financing, Try us out!
(Visited 1,032 times, 1 visits today)