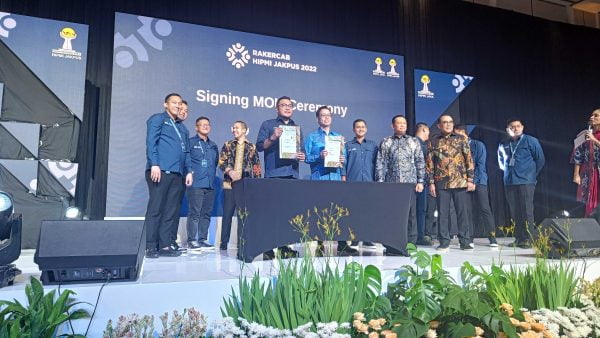 Paper.id & the Indonesian Young Entrepreneurs Association (HIPMI) Central Jakarta branch (Jakpus) officially signed an MOU. The signing took place at the Central Jakarta HIPMI Branch Work Meeting (Rakercab), Monday September 19th 2022 at the Fairmont Senayan Hotel, Jakarta. The event was also attended by the Chairman of the MPR RI, H. Bambang Soesatyo and the general chairman of the BPD HIPMI Jaya, Sona Maesana.
Read more : Paper.id collaborates with blibli to simplify e-invoicing process
CEO & co-founder of Paper.id Yosia Sugalam appreciates this event and said "We welcome HIPMI's invitation to work together in terms of digitalization of business operations for all MSMEs. This will be conducted through socialization in every HIPMI activity both offline or online related to e-Invoicing and payment between businesses. "
Regarding this thing, M. Riandy Haroen as the General Chairperson of the Central Jakarta HIPMI BPC also appreciated this collaboration. He said "We hope that this collaboration can have a positive impact on MSMEs so that they can improve themselves and be more competitive".
Paper.id appreciated HIPMI Central Jakarta branch as a forum that carries the principles of inclusive, productive and solutive and gather young Indonesian businesses with a mission to increase collaboration between entrepreneurs in order to increase economic growth. Paper.id also acts as a party that helps the realization of HIPMI's mission through a business payment platform that can be used by anyone for free.
These two things encourage both parties to collaborate in various forms, such as MSME training programs. One of the things that will be socialized is the importance of implementing more efficient business management with digital platforms.
This is in line with the spirit of young entrepreneurs who are open to technology. Thus entrepreneurs can experience many positive benefits, such as saving time and costs in terms of business operations and reducing error rates that can cause large losses.
Yosia added that "This collaboration comes as a step of Hipmi & Paper.id to join in hand in making a positive contribution to the development of business in Indonesia. The real impact of digitalization has succeeded in reducing costs and increasing the income of business people, especially after pandemic."
Read more: Paper.id Collaborates with Muammalat Bank to accelerate digitalization in business funding
As a closing statement, Mr. Riandy said, "In the future, HIPMI & Paper id will synergize with each other in providing existing training for MSMEs so that they can have a greater impact on economic progress."