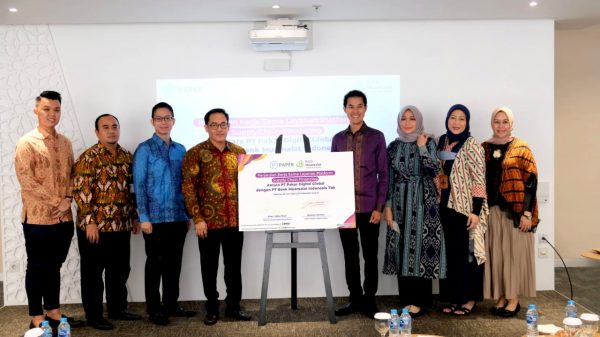 Paper.id officially announced a strategic partnership with PT Bank Muamalat Indonesia Tbk. in order to support the companies' commitment to accelerate digital transformation for businesses in Indonesia, especially in providing transparent, fast, safe and sharia-based business financing that can be enjoyed by businesses. This collaboration is expected to help many businesses in doing transactions and funding.
CEO & Co-founder of Paper.id, Yosia Sugialam stated that, "We really appreciate the vision and spirit of Bank Muamalat to encourage business digitization in Indonesia. Together with Bank Muamalat, we not only reduce the cost & time to conduct transactions between businesses, but at the same time provide transparent and Sharia-based supply chain funding."
Read more: Partnered with PERURI, Paper.id becomes the first platform provides e-Meterai
The collaboration between Paper.id and Bank Muamalat eases businesses to access invoice-based business funding or business transactions. In this case, the exchange of documents is centralised on Paper.id and carried out digitally, so that the transaction history and validation of suppliers, buyers, and transactions can be carried out in one place.
Chief Wholesale Banking Officer Irvan Yulian Noor of Bank Muamalat said, as a pioneer in the sharia industry in Indonesia, we wanted to present a comprehensive solution for customers, especially in the corporate and commercial segments. Bank Muamalat cooperates with Paper.id to develop a value chain system that eases customers (suppliers and buyers) to access digital-based business products.
The value chain system itself is a platform that can be used as a customised solution for anchors and their business partners. This system can adapt to buyer and selling anchors' payment methods and patterns with business partners, so rules are needed in the form of technical instructions for implementing comprehensive trade finance transactions.
"The circulation of customer's business money becomes smoother, because payments and business goods purchase can be conducted through the application digitally and of course in accordance with sharia principles. And what is no less important is that this system mitigates human errors in the process of checking documents, monitoring and reporting," he said.
The document submission process can be done through the Paper.id platform starting from the supplier who creates the invoice via Paper.id. To strengthen the validity of invoices, e-Meterai and digital signatures are also presented to create valid invoices and can be sent directly digitally through several channels such as Email, Whatsapp or SMS.
Read more: Electronic stamp is officially released in Indonesia
After that, the checking process by financial institutions can be done digitally through the transaction history recorded directly on the Paper.id. It increases transparency while reducing operational risks such as mismatches between documents' value and document's verification.
This collaboration fastens the process into one days which is faster than the conventional way. Buyers can enjoy business funding and control the payment tempo. On the other hand, suppliers can enjoy the disbursement of invoices faster than the due date and the cash flow of both remains secured.