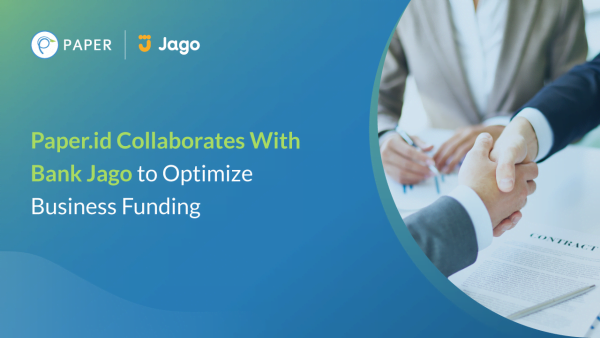 Paper.id (PT. Pakar Global Digital) announced a strategic partnership with PT. Bank Jago Tbk to actualize their pledge on increasing the distribution of business fundings especially for distributors and retailers for the FMCG industry. Furthermore, this partnership also aims to accelerate digital transformation for business ecosystems in Indonesia.
Paper.id is an invoicing, payment, & financing platform that provides solutions to streamline cash flow and ease operational expenses. As of now, there are more than 250,000 companies that are registered as Paper.id users from various provinces in Indonesia.
Read more: Paper.id collaborates with Microsoft to support digitization through special bundling
CEO & Co-founder of Paper.id, Jeremy Limman said, "Our collaboration eases users on accessing digital-based business funding products, especially for convenience storesgrocery stores with small margins. Specifically, we help them maintain their cash flow smoothly by giving them additional payment terms through approachable working capital funding with a dynamic amount of disbursement based on their business needs."
Both distributors and retailers often have plenty of technical problems. For distributors, their cash flow usually lacks control due to untimely payments from customers. On the other hand, grocery stores also have a bottleneck on paying their bills because of several limitations, for example unsold goods. The collaboration between Paper.id and Bank Jago aims to help distributors get early disbursement of funds, while on the grocery store side, they receive flexible net terms.
In addition, this collaboration is expected to support the government's digitization effort in providing a digital economy ecosystem to create and nurture business more efficiently and effectively. Hence, the competitiveness of business actors increases simultaneously and shifts unbankable business actors into bankable through neat digital bookkeeping, in order to obtain funding from trusted financial institutions.\
Read more: Covid-19 encourages businessmen to be more creative
Jeremy Limman also stated that coupled with their commitment, a number of financial institutions will be added that are ready to serve financial support through Paper.id platform. Paper.id has established strategic partnerships with various institutions such as Modalku, Investree, Koinworks, and Alami with a total disbursement reaching IDR 100 billion as of March 2021. Besides, Paper.id is also officially registered as a financial technology provider by Bank Indonesia and registered at OJK on Digital Financial Innovation (IKD).
Looking back at Indonesia's economic conditions in the first quarter of 2021, the conditions incrementally improved around 2.15% compared to the fourth quarter of 2020. The same trend on Paper.id where the number of invoices made increased 1,5 times from March 2020 until now. By seeing this data, Paper.id believes that the number of business funding will rise up at least 3 times compared to the previous year.
(Visited 233 times, 1 visits today)